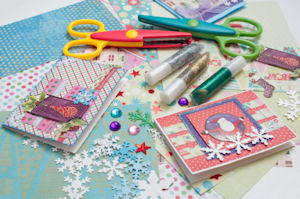 Are you a parent that finds one of the most rewarding things that you can do with your children is to put crafts together? The people who work with children on a regular basis find crafting is beneficial to both children and adults alike. Crafts teach children to express their creativity and show off some of their skills. There are many crafts out there that are easy and fun and can be done by anyone, even those who don't think they're artistic.
You will want to make sure that the craft that you are working on is appropriate for the children's age and also their skill level. This can be difficult when you are working with a number of children in a classroom setting or when you're working with your own children if their ages vary. When crafting with multiple children try and find something that is adaptable so that everyone finds the craft fun and rewarding.
When we were children, one of the most basic craft projects we learned to do is coloring with crayons and markers. This is something great to do with children because there are many educational coloring books. To encourage your children to think through their drawings give them something a little challenging, like think of a theme that their picture has to follow. You can also give them a project to work on, like making cards for family members. Grandparents love getting birthday cards featuring drawings from their grandchildren!
You will want to research some fun projects for you to teach your children about the importance of recycling and how they can use recycling to make other objects. Use newspaper, for example, to do paper mache projects or create candles out of old crayons. You can go online or look in craft books to find plenty of ideas on how you can recycle things like tin cans and tissue boxes (things that you would normally throw away) and make beautiful projects out of them.
Safety is paramount when it comes to crafting with children. You will want to keep in mind that your child is still developing mentally and physically. Avoid harmful chemicals that may make them sick or hurt them. Learn what chemicals to avoid and check labels. This is especially important for paints, glues, and clays. Make sure to watch younger children very carefully, as even non-toxic substances can be harmful if they get into a child's eyes. Children also need to be supervised with using sharp objects or items that produce heat. Supervision not only protects your children but your house as well. Don't forget that many craft items can be difficult to remove from carpets and walls!
Craft projects don't have to be expensive, messy or difficult. Crafting with your kids can be simple, but because you are doing them together, they can be extremely rewarding. If you notice that your child is taking a real interest in arts and crafts you may want to get them enrolled in classes so that they can enhance their skills and embrace that aspect of their world.
…
to read the entire article go to http://assuredlease.lifestyleezine.com