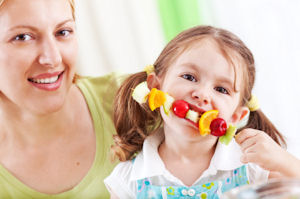 Ham and Cheese Crackers
Cut up some pieces of ham and cheese and serve them with some crackers. If you want to make it fun, use a cookie cutter to cut fun shapes out of the cheese.
Fruit Dip
Caution, this can get a little messy!
Cut up some fruit in bite size chunks and serve with a small bowl of yogurt. Encourage your toddler to dip the fruit in the yogurt. This is an easy way to get your toddler to eat a serving of fruit, while also getting some extra calcium and protein in his/her diet from the yogurt.
Low Sugar Cereal
I always keep a box of low sugar cereal like cheerios in my pantry. They make a great snack with a little milk, or even just a bowl of dry cereal. Dry cereal also makes a great take-along snack. Just throw a serving in a Ziploc bag and toss it in your purse.
Veggies and Dip
Keep some cut up veggies in the fridge. Small pieces of carrot, peeled cucumber, celery as well as small sections of broccoli and cauliflower all make great finger food for toddlers…
to read the entire article go to http://assuredlease.lifestyleezine.com