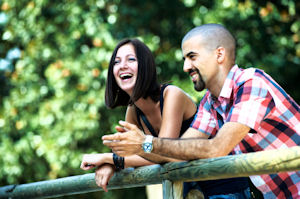 Shyness is something that many people experience to different degrees. Some are a little uncomfortable when it comes to meeting new people or speaking in front of a group of strangers. Other people are polar opposites and become debilitated by their shyness. Sadly, these are the men who typically never get a chance to show a woman what they have to offer because they are just too shy to even say "hello." However, that doesn't always have to be the case.To begin with, there are many women who simply ADORE shy men. There's just something about a guy who is terrified to talk to women. He may be one of the greatest looking guys in the room, but he doesn't know that. Believe it or not, that is, in and of itself, one of the hottest triggers for many women. They will locate this man with their internal heat seeking missiles and proceed to hone in on him. Most of the time, their approach is viewed with much trepidation by the object of their attention, as a truly shy man will be terrified that he's going to have to talk.
Now, imagine his surprise when he does manage to look at the woman and see that she's one of the most beautiful looking women in the place. Your first thought should NOT be "why is she talking to ME?" Instead, look at it as an opportunity. Obviously, she sees something she likes or she wouldn't be standing in front of you introducing herself. Yes, you're terrified, but please remember that SHE approached YOU and she will most likely be happy to start the conversation and maybe even carry a lot of it. However, you DO need to do your part to participate in the conversation or she'll think you don't like her.
If she keeps touching you lightly on the arm while talking to you, ask her to dance. Hopefully, you have learned at least how to do a decent slow dance. You're not expected to be Fred Astaire, but it does give you an excuse to put your arms around her. This will tell you a lot about what her intentions are.
Smile a lot but don't leer. Let her know that you're enjoying her company. This isn't impossible, no matter how shy you are. Again, keep in mind that SHE came to YOU. Always keep that in the front of your mind so that you can gain some confidence from it. This amazing woman found you interesting enough to walk over to you and start talking. The least you can do is talk back. It's important that you show her you like her in an unobtrusive way.
When it comes time to part ways, if things have gone well, ask her for her phone number. By then you'll be able to tell whether or not she's interested enough to give you her number or not, so it's not like you're taking a huge gamble. Remember that she likes you and be brave….
to read the entire article go to http://assuredlease.lifestyleezine.com