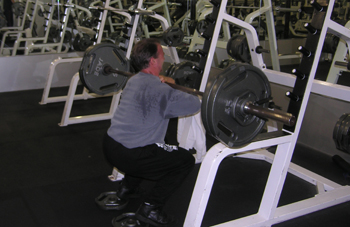 By Tom Venuto, NSCA-CPT, CSCS
Lifetime Natural Bodybuilder
www.burnthefat.com


In my opinion, front squats are one of the absolute best quad builders. Back squats are a tremendous mass builder as well, but front squats introduce an additional level of challenge because they require flexibility, technique, and core strength because the bar must be held and balanced on the front of the shoulders. As such, the front squat does everything the back squat does and more.
One great advantage of the front squat, especially for someone like me, having previously suffered a low back injury (herniated L4), is that the torso can be held in a more upright (vertical position). Since there is less forward trunk inclination, this removes some of the stress and shear forces from the lower back. At the same time, this upright position is closer to a bodybuilding squat and throws much more emphasis on the quads and less on the hips. It is truly a superb bodybuilding exercise.
There are t…
to read the entire article go to http://assuredlease.lifestyleezine.com